About Marc Carson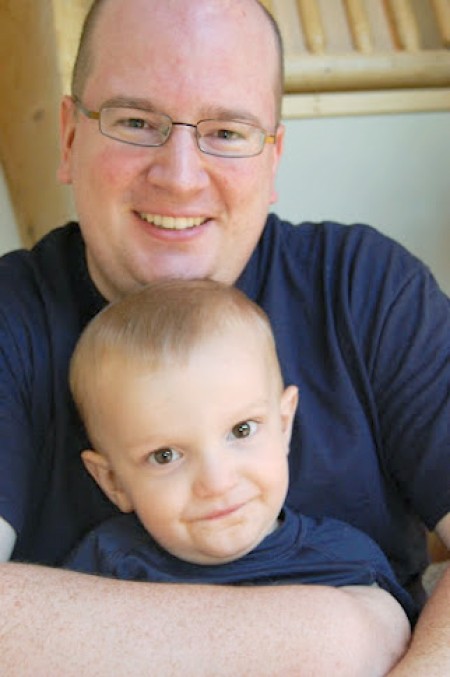 (Above: I hold my son, Hugh, while he makes a funny face.)
The Web Is My Canvas
I've been creating websites since 1996. I've helped create successful sites for big companies like Intuit and McAfee, and I've also worked with lots of smaller clients.
I love to build really nice websites for people who care about their work. I think the web requires a special approach—websites should look pretty and work well behind the scenes. All of this HTML and SEO and RWD stuff needs to be done correctly or things can go wrong.
I believe websites should change constantly over time. The time spent updating and maintaining a website's content in the years after the initial launch is crucial.
I also think about design a lot. I've won a couple of visual art awards. I am a member of AIGA, the professional association for design. I enjoy great typography and beautiful graphics, and I have many sketchbooks full of my own drawings and designs. For two years I taught college-level design courses, and I helped some of my students start careers in design and illustration (please, before taking out a $40,000 art student loan, make sure you have explored the alternatives).
On the technical side, I have a bunch of experience with computer networks and programming. I can (and often do) write code all day, set up and maintain servers, and I'm a big fan of UNIX.
Away from Work
I live in northern California with my lovely wife (a dedicated mom and marathon runner), two rambunctious boys, a baby girl, and two cats.
Some things that help me recharge are: Hiking, cycling, playing pickleball, reading books, playing with my kids, and watching films. I like foreign films, especially Korean dramas for some reason. I speak Japanese and my wife speaks Italian (both from living overseas). We teach each other vocabulary from time to time, and my wife makes amazing Italian food, while I just think raw tuna is great with some soy sauce.
People say I have a sharp sense of humor. I tried to give you a pretty straight writeup here, but if you detect any joking around elsewhere on my website…mea culpa.